Car Accident Attorney in Columbus, Ohio
Protecting the Rights of Injured Car Crash Victims in Columbus, Ohio
In a recent year, there were more than 303,000 traffic crashes reported throughout Ohio, many of which took place in the Columbus area. Over 75,000 people sustained injuries and, nearly 1,100 people tragically died in accidents. The reality is that anytime you are on the road, there is the possibility that a traffic accident and injuries can happen to you or someone you love.
At The Jones Firm, we are dedicated to standing up for traffic accident victims and helping them recover financially after someone else causes a serious crash. We are here in your time of need and can guide claims to the most favorable outcome possible. If you suffered injuries from a car accident, get the medical help you need, and then contact a Columbus car accident lawyer as soon as you can.
View our quick guide to car accidents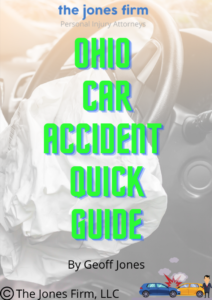 EACH CRASH IS DIFFERENT
Just like people and vehicles, car crashes come in all shapes and sizes. From single-car accidents to multi-vehicle pileups, these incidents have one thing in common – the potential to cause devastating injuries and disrupt the lives of victims in many ways.
Different Types Of Car Accidents In Columbus
Head-on collisions
Broadside (or T-bone) collisions
Sideswipes
Chain reaction crashes
Hit and runs
After any type of accident, you should call 911 and get emergency medical treatment when necessary. As soon as your physical condition is stable, contact our legal team about your legal options.
CAR ACCIDENT INJURIES AND LOSSES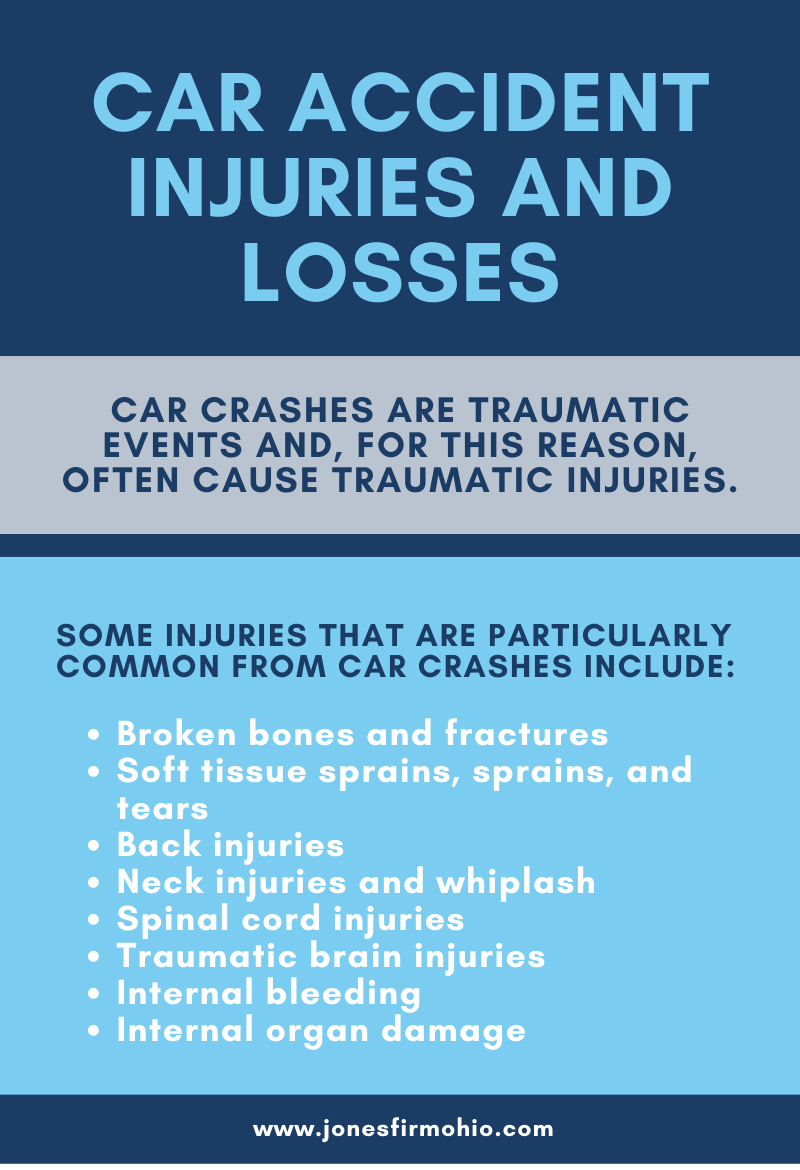 When you call 911 after a crash, they should send both emergency medical technicians (EMTs) and law enforcement officers to the scene. If the EMTs believe you have severe injuries, you might need an ambulance ride to the hospital. If not, you can stay at the scene and ensure that the police get your version of what happened.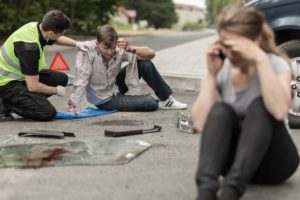 Even if you do not need emergency transportation, it is still always wise to get checked out by medical professionals. Going to the emergency room, urgent care, or your physician's office will make sure that any injuries you have will be diagnosed in a timely fashion. Sometimes, injuries might not be obvious right after the crash, as you might be in shock or think that discomfort is normal to feel. However, getting a diagnosis as soon as you can is critical to not only get the medical treatment you need but also for the purposes of future insurance or legal claim.
If you've been injured in a Columbus car accident, you deserve to be compensated for your expenses
Medical bills – For every bit of treatment that you receive, you will certainly receive the bills. We all know that medical treatment is expensive, and the bills will start piling up right away. You can quickly become overwhelmed, especially if you need hospitalization, surgery, or other invasive treatment.
Future medical costs – Even if you have not received certain treatment, you still have the right to seek compensation for that future treatment.

Medical experts can estimate what your future treatments will cost, and a Columbus car accident lawyer can include them in your claim for compensation.

Lost income – Many different types of injuries can prevent you from working. You might need to miss work for medical treatment, or your injuries might cause impairments that keep you from performing your job. If you missed work and lost income, that is considered to be an accident-related loss.
Lost future income – Some car accident injuries are catastrophic, and they result in permanent disabilities and impairments. This can mean you will have to find a lower-paying job, or you might not be able to work at all. With the help of occupational and economic experts, we can determine how much future income you will lose due to the crash.
Intangible losses – Not all losses are based on money, as some are intangible. These include pain and suffering, mental trauma, permanent disfigurement or disabilities, and more.
Often, calculating losses can be a complicated task, and you want the help of a trusted legal professional to ensure you do not miss out on any losses when you file your claim.

A Columbus Car Accident Lawyer Can Get You The Compensation You Deserve
In addition to your physical recovery, it is important to seek financial recovery for your losses from liable parties. Parties are liable when they acted negligently, and their negligence led to the crash.
Common examples of negligence in Columbus car accident claims:
Intoxicated driving
Distracted driving
Speeding
Running red lights
Fatigued driving
Aggressive driving
Violating other traffic laws
Not maintaining a vehicle
Defective vehicle parts
We can evaluate what caused your crash and injuries and determine which parties should be liable for your losses. Then, we can take the following steps for you:
Calculate your past and future losses
Prepare and file insurance claims with the proper companies
Handle all communications with the insurance adjuster
Review insurance settlement offers and determines whether they are adequate to cover all your losses
File a personal injury lawsuit in civil court if an insurance settlement is not sufficient
Handle the litigation process, including settlement negotiations
If no settlement agreement is reached, we will represent you at trial
DISCUSS A POSSIBLE CLAIM WITH A COLUMBUS CAR ACCIDENT LAWYER TODAY
The Jones Firm has a strong dedication to helping Columbus car accident victims. Columbus car accident lawyer Geoff Jones has felt the personal tragedy of a fatal car accident, and our firm now strives to hold negligent or wrongful drivers fully responsible for any harm they cause. If you want to know more about your rights as an injured crash victim, contact us right away for a free case evaluation.