According to the Ohio State Highway Patrol, a total of 193,372 car crashes were reported throughout Ohio in 2022. Out of all these incidents, 16,559 accidents occurred in Franklin County, where Columbus is located. Car accidents can result in horrible injuries and sometimes even death; in reality, they can occur at any time and place. So if you've experienced a car accident near Columbus, Ohio, you need an advocate who will fight by your side.
At The Jones Firm, we are Columbus car accident attorneys who stand up for traffic accident victims and help them recover financially after someone else causes a severe crash. We are here in your time of need and can guide claims to the most favorable outcome possible. If you suffered injuries from a car accident, get the medical help you need, and then contact a Columbus car accident lawyer as soon as possible.
View our quick guide to car accidents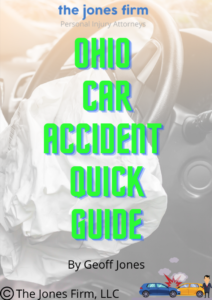 Each Crash Is Different
Like people and vehicles, car crashes come in all shapes and sizes. From single-car accidents to multi-vehicle pileups, these incidents have one thing in common – the potential to cause devastating injuries and disrupt the lives of car crash victims in many ways.
Different Types of Car Accidents in Columbus, Ohio
Head-on collisions
Broadside (or T-bone) collisions
Sideswipes
Chain reaction crashes
Hit and runs
After an accident, you should call 911 and get emergency medical treatment when necessary. As soon as your physical condition is stable, contact our legal team about your legal options. We'll help you recover the compensation you deserve for your damages.