In a recent year, there were more than 303,000 traffic crashes reported throughout Ohio, many of which took place in the Columbus area. Over 75,000 people sustained injuries and, nearly 1,100 people tragically died in accidents. The reality is that anytime you are on the road, there is the possibility that a traffic accident and injuries can happen to you or someone you love.
At The Jones Firm, we are dedicated to standing up for traffic accident victims and helping them recover financially after someone else causes a serious crash. We are here in your time of need and can guide claims to the most favorable outcome possible. If you suffered injuries from a car accident, get the medical help you need, and then contact a Columbus car accident lawyer as soon as you can.
View our quick guide to car accidents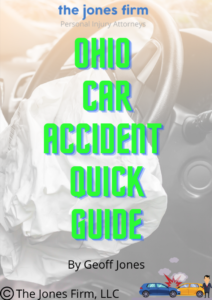 Each Crash Is Different
Just like people and vehicles, car crashes come in all shapes and sizes. From single-car accidents to multi-vehicle pileups, these incidents have one thing in common – the potential to cause devastating injuries and disrupt the lives of victims in many ways.
Different Types Of Car Accidents In Columbus
Head-on collisions
Broadside (or T-bone) collisions
Sideswipes
Chain reaction crashes
Hit and runs
After any type of accident, you should call 911 and get emergency medical treatment when necessary. As soon as your physical condition is stable, contact our legal team about your legal options.