Motorcyclists are extremely vulnerable to dangerous accidents. Every motorist is responsible for safely sharing the road with all who travel on it, including motorcycle riders. Driver negligence makes our roads less safe for everyone, but motorcyclists often pay the ultimate price. A highly skilled Columbus motorcycle accident attorney can ensure you're compensated for your pain, suffering, and out-of-pocket expenses.
Motorcycles allow a sense of freedom and a connection with the open road that is difficult to deny. Motorcycle accidents, however, are among the most violent and deadly traffic accidents on our roadways.
When you are on your bike, you have nothing but your helmet and your safety gear to protect you from the impact of an accident caused by a negligent motorist, and the results can be life-threatening. If a negligent motorist causes you to be injured in a motorcycle accident, you shouldn't wait to consult with Columbus motorcycle accident lawyers.
Contact The Jones Firm in Ohio today to schedule your free case review.
Ways a Columbus Motorcycle Accident Lawyer Can Help You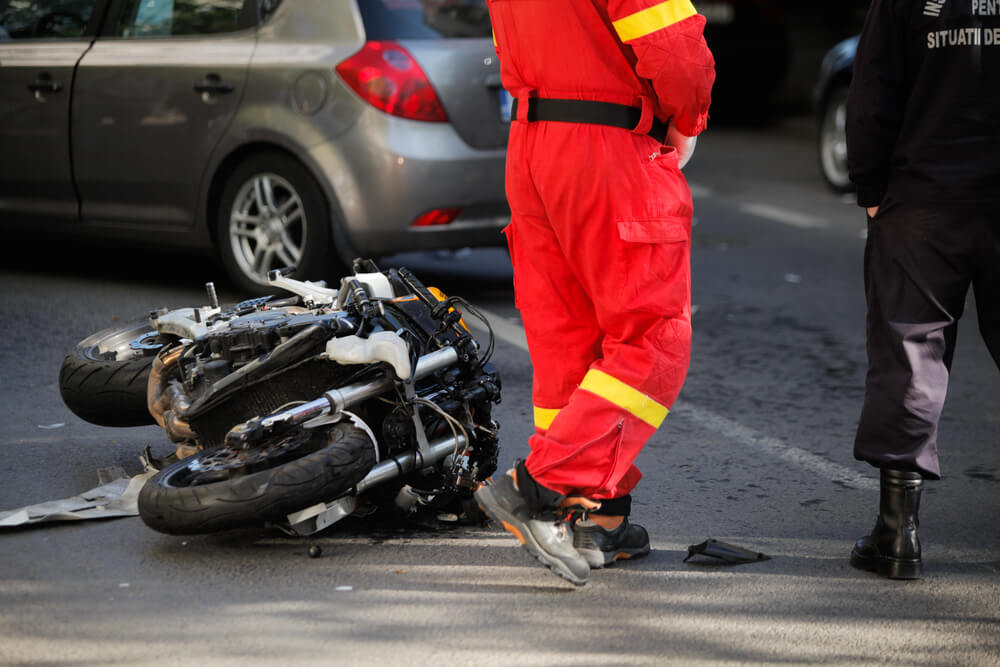 Here are a few ways you can benefit from consulting with a motorcycle accident lawyer in Columbus:
While recovering from your motorcycle accident injuries, you should avoid stressful situations as much as possible. Your attorney will handle everything on your behalf, from communicating with the insurance company to filing a motorcycle accident lawsuit.
An experienced personal injury attorney can determine just how much your motorcycle case in Columbus is worth. Without this guidance, you will likely accept a lower offer than what you're entitled to.
Since we operate on a contingency fee basis, you don't have to worry about heavy legal costs during a time that's already financially stressful. If your personal injury attorney is successful, their fees will be taken from your award. If your attorney is unsuccessful, no fees are owed. You have nothing to lose.
If you've recently been involved in a motorcycle accident in central Ohio, it's important to seek legal advice as soon as possible. A Columbus motorcycle accident lawyer can ensure you're compensated for the effects of a motorist's negligence.
Columbus Motorcycle Accident Statistics
The latest statistics from the Ohio State Highway Patrol reveal that there were over 650 motorcycle-related accidents in Columbus in 2021. Franklin County accounted for more than half of all Columbus motorcycle crashes last year.
In our many years of experience as motorcycle accident attorneys in Columbus, we've handled several motorcycle accident cases. Negligent drivers often injure cyclists in red light accidents, speeding crashes, and dooring accidents.
Common Causes of Motorcycle Accidents in Columbus
Your Columbus motorcycle accident lawyer will examine the details of your case to determine the cause of action. This is the negligent behavior that partially or wholly contributed to the accident. Even if you were partially at fault, an experienced motorcycle accident attorney can still ensure you receive compensation for your injuries.
When you're on your bike, you're not only more vulnerable to the impact of an accident but are also more difficult for other drivers to see. This does not, however, mitigate the responsibility of drivers to look for and see motorcyclists in their midst—in addition to sharing the road with them safely.
Negligent drivers seriously endanger motorcyclists, and such negligence can come in many stealthy forms, including:
Distraction

— Distracted drivers are extremely dangerous drivers, but they pose an even greater threat to motorcyclists who are more difficult to see in the first place. A driver who is interacting with their smartphone (the most dangerous and most common distraction out there) isn't in a great position to be watching out for motorcycles on the road. 

Impairment

— Driving under the influence of alcohol and/or drugs is just as dangerous as it sounds. The physical and cognitive effects of impairment leave motorists far less capable of proceeding safely, and motorcyclists can pay the ultimate price. Injured in a drunk driving accident? A

Columbus drunk driving accident attorney

can help.

Exhaustion

— The physical and cognitive effects of drowsy driving can be quite similar to those of impaired driving, and drowsy drivers are more common than one would think. In fact, many drowsy drivers fail to recognize the danger they pose. 

Excess speed

— Speed not only makes accidents more likely but also makes them more dangerous. When the negligent driver who leaves you injured in a motorcycle accident is speeding excessively, your chances of being seriously injured – or worse – rise dramatically. 

Aggressive drivers

— Aggressive drivers take dangerous driving to new heights, and their purposeful brand of reckless driving leaves motorcyclists at extreme risk. Aggressive drivers tend to engage in multiple dangerous pursuits at any one time, including tailgating, zipping in and out of traffic, passing illegally, running red lights, and refusing to cede the right of way. The

dangers of road rage

can put a motorcycle rider in the aggressive driver's midst at immense risk.
No matter the cause of the crash, it's a good idea to discuss it with a Columbus motorcycle accident lawyer. After a FREE case review, your attorney will advise you on the viability of your motorcycle accident claim, as well as an educated estimate of what you may be able to recover.