Slip and Falls are Dangerous and Should Be Taken Seriously
Slip and fall accidents are some of the most dangerous and common accidents, and they are often the result of poorly maintained properties. Commercial property owners owe us a duty of care that includes maintaining their grounds in a reasonably safe condition. 
Slip and fall accidents are as common as they are dangerous. The term slip and fall belies the serious nature of these very dangerous accidents, which can happen nearly anywhere, including on the job or at a store, restaurant, or another business establishment. If someone else's negligence causes you to be injured in a slip and fall accident, reach out for the professional legal guidance that you need from an experienced Columbus slip and fall attorney.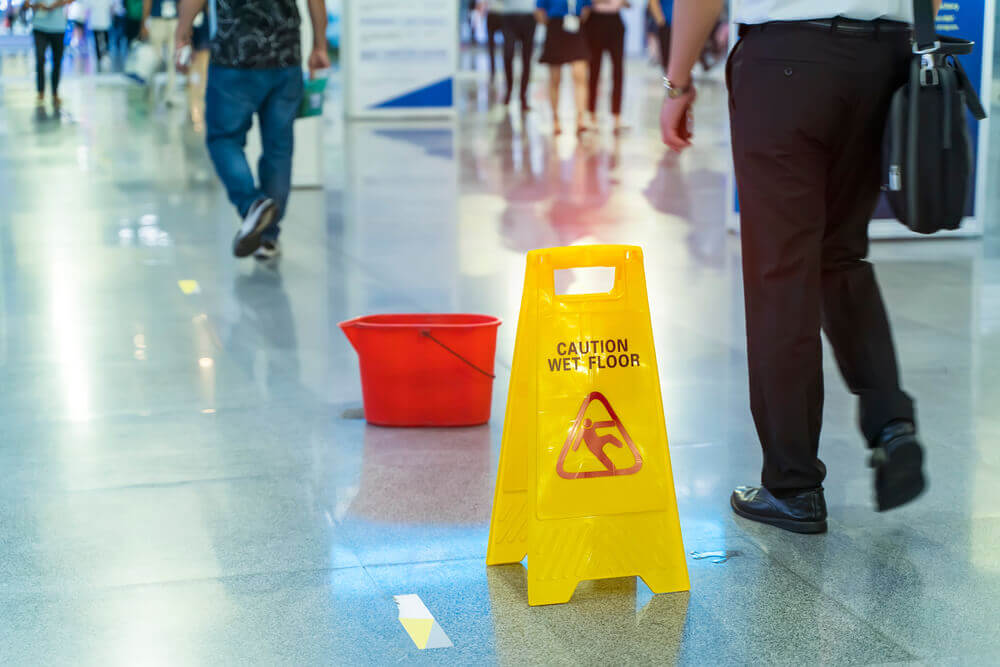 THE TELLING STATISTICS
Before it's difficult to truly appreciate exactly how dangerous slip and falls can be, it's important to review the related statistics, including these reported by the National Floor Safety Institute (NFSI):
Falls – at 21.3 percent – are the leading cause of trips to the emergency room, and slip and falls account for a full 12 percent of these trips to the ER. 

Falls account for 5 percent of all fatal accidents on the job for women and for 11 percent of all fatal accidents on the job for men. 

Five percent of all fall victims suffer a fracture, and of these, hip fractures are the most serious.

Slip and falls are the leading cause of lost hours on the job.
Slip and falls are dangerous and should always be taken seriously. 
INJURIES SUSTAINED IN SLIP AND FALL ACCIDENTS
Victims of slip and fall accidents can suffer serious injuries depending upon the way in which they fall. Individuals who fall frontwards are more likely to suffer a broken bone (such as a broken arm, leg, or knee bone), while individuals who fall backward are more likely to suffer a back or spinal cord injury. In the worst cases, a spinal cord injury can result in some form of paralysis. Traumatic head and brain injuries are also common if an accident victim strikes his or her head on the ground in the accident.
If you or a person you love has suffered one or more of these injuries in a slip and fall accident that occurred on someone else's premises, your first step should be to receive the medical treatment that you need for your injuries. Your next step should be to speak with a knowledgeable Columbus slip and fall injury lawyer. Your attorney will be able to start collecting the necessary documents to pursue your personal injury claim – all while you focus your attention on recovering from your injuries.
BUSINESS OWNERS AND DUTY OF CARE
When you go about your daily life, it often involves visiting stores, medical facilities, restaurants, and other establishments. While you probably don't consider these activities especially dangerous, when the managing entity fails to live up to its duty of care to keep the premises reasonably safe for your passage, it can be. While premises liability law is extremely complicated and each case proceeds according to its own highly specific circumstances, the basics elements for a successful claim include:
The manager or owner was responsible for the danger that left you injured (such as worn flooring that caused a tripping hazard).

The manager or owner was aware – or should have been aware – of the danger but failed to take care of it and/or to provide a reasonable warning (such as failing to correct the tripping hazard and/or failing put up a sign to alert visitors like you to the danger)

The danger in question caused you to slip and fall, be injured in the process, and suffer damages as a result.
STATUTE OF LIMITATIONS IN OHIO SLIP AND FALL CASES
People who suffer injuries in Ohio slip and fall accidents do not have an unlimited period of time in which to file a personal injury claim or lawsuit that seeks damages. In almost all Ohio personal injury cases, accident victims have a period of two (2) years from the date of their injury in which to file a lawsuit in the Ohio court system. The clock starts running on the date of the accident and extends for two years thereafter. Although there are some very limited circumstances where the statute of limitations can be extended, you should not assume that they will apply to your case.
If you fail to file a personal injury lawsuit within this two-year statute of limitations time period, you will not be able to pursue or recover damages in the future for your slip and fall injuries. Therefore, it is important that you retain an experienced attorney on your side as soon as possible after your slip and fall injury who can begin the claims-filing process on your behalf.
WHAT TYPES OF MONETARY COMPENSATION CAN I RECOVER IN MY SLIP AND FALL ACCIDENT CASE?
If you are able to prove all of the legal elements of your claim, you might be able to recover various types of monetary compensation for the injuries which you suffered in your slip and fall. First, you might be eligible to recover compensation for all related medical treatment and procedure bills, as well as physical and/or occupational therapy costs related to your accident. If you had to miss time from work in order to treat or recover from your injuries, you could also bring a claim for loss of earnings and/or loss of earning capacity.
Finally, you might be able to assert a claim for pain and suffering. These damages are meant to compensate accident victims for all of the pain, suffering, and inconvenience which they had to endure as a result of their injuries. They could also pursue compensation for mental anguish, emotional distress, and lost quality of life.
An experienced Columbus slip and fall accident attorney will help you pursue the damages that you need arising from your slip and fall accident.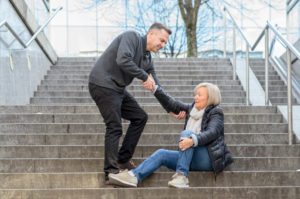 DISCUSS YOUR CASE WITH AN EXPERIENCED COLUMBUS SLIP AND FALL ATTORNEY TODAY
Geoff Jones at The Jones Firm in Columbus, Ohio, is a formidable slip and fall attorney who understands the very serious nature of slip and falls and is committed to applying his considerable experience to effecting your case's most favorable resolution. If someone else's negligence leaves you injured in a slip and fall accident, please don't hesitate to contact us online or call us at 614-209-5162 for more information today.