Medical Malpractice Lawyer in Columbus, Ohio
Bringing a Successful Medical Malpractice Claim
Medical professionals and facilities are meant to help us regain our health, and when the treatment they provide instead leaves us injured, it is an especially difficult situation. Medical professionals owe patients a standard of care, and when they fail to meet this standard, it can be medical malpractice. 
We turn to medical professionals when we need their expertise and care to help us regain our health and well-being. When their treatment doesn't go as planned, and we end up being injured in the process, it can be devastating. In fact, as patients, we're exceptionally vulnerable, and being injured by the medical care we seek can feel like a betrayal. If you or someone you love has been injured by a medical professional and/or medical facility's malpractice, seek the professional legal counsel you need by consulting with an experienced Columbus medical malpractice attorney.
 MEDICAL MALPRACTICE IN OHIO
In Ohio, medical malpractice is an important branch of law that addresses patients who are injured as a result of either the medical care provided by a medical professional, such as a doctor or nurse, or as a result of the practices of a medical institution, such as a hospital or surgery center. 
Medical malpractice, however, goes beyond this limited definition, and the medical professional or institution in question must have failed to live up to the standard of care owed you (referred to as a breach in this standard). This standard of care refers to the generally accepted medical practices and procedures that medical professionals as a whole administer when treating patients with similar health concerns (who are also in the same general health and age group).  
THE ELEMENTS OF A MEDICAL MALPRACTICE CLAIM
To bring a successful medical malpractice claim in Ohio, the following elements must be present:
The medical professional or facility owed you a duty of care. This is generally satisfied by the doctor-patient relationship that's been established.

There is a medical standard of care that applies in this medical situation, and this refers to those things that other reasonable medical professionals or institutions of typical skill, diligence, and care would or would not have done in a comparable situation.
The medical professional or medical facility breached this standard of care by doing something or failing to do something that the other reasonable medical professionals or institutions of typical skill, diligence, and care would or would not have done in a comparable situation.

You were injured in the process, and this breach of the standard of care was the direct cause of your injury. 
Put more succinctly, if a medical professional or facility fails to provide you with the reasonable treatment or practices that other reasonable professionals or facilities would have under similar circumstances and this failure leaves you injured, you may have a medical malpractice case.  
COMMON MEDICAL MALPRACTICE CASES
No two medical malpractice cases are ever exactly alike, but some common categories include:
Misdiagnosis – Misdiagnosis is one of the most common types of medical malpractice claims. If you're misdiagnosed, not only do you miss out on treatment opportunities for what you're actually suffering from, but you might have also endured treatment that you didn't need – along with the side effects that accompany that treatment. 
Anesthesia Errors

– Errors in anesthesia can be exceptionally dangerous and tend to result from failing to obtain a complete patient history, failing to adequately instruct the patient regarding necessary preoperative practices, neglecting the patient's vital signs, administering excessive anesthesia, and more. 

Infections

– Hospitals that aren't hypervigilant in their sanitation procedures increase the risk of

life-threatening infections

being spread.

Medication Errors

– When patients don't receive the medications they need in the correct dosages, receive the wrong medications in the first place, or are prescribed medications without concern for drug-drug interactions, the health results can be disastrous.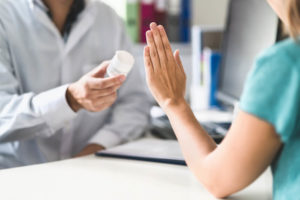 DON'T WAIT TO REACH OUT TO AN EXPERIENCED COLUMBUS MEDICAL MALPRACTICE ATTORNEY
If you or your loved one has been injured by medical malpractice, Geoff Jones at The Jones Firm in Columbus, Ohio, is a dedicated medical malpractice attorney who is personally committed to every case he takes on. If it's important to you, it's important to us, so please don't hesitate to contact us online or call us at 614-209-5162 today.